SHDB Series Rollers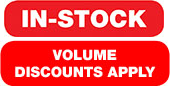 FOB: East Coast Warehouse

The relationship between the SHDB Series Rollers and the SHD Series is precisely the same as the relationship between the OTB/NTB/TB Series and the OT/NT/T Series Rollers.
Addition of two end-blocks on the roller frame allows for the addition of an external guidance system (Accu-Roll.)

Note: There are slight dimensional differences in the top plate from the SHD counterparts.