SHD Individual Rollers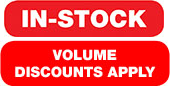 FOB: East Coast Warehouse
Highest capacity rollers offered as standard models.
Similar to OT/NT/T Series in terms of top configurations and capacity.
Available Capacity Range: 100 tons to 1,000 tons.
NOTE: The 1,000 ton IS NOT the highest capacity roller made. Presently the single most, highest capacity Hilman Roller ever made is rated at 5,000 metric tons. If you have an application that requires the capacity of a single roller to be in excess of 1,000 tons we encourage you to contact Material Flow to discuss the nature of your application in greater depth.