OTB-TB-NTB Series Rollers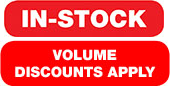 FOB: East Coast Warehouse

Hilman OTB/TB/NTB Series Rollers are nearly identical to their OT/NT/TB counterparts with the main difference being the addition of two end-blocks on either end of the roller frame.
End-blocks include a drilled and tapped hole pattern that allows for the addition of an external guidance system (Accu-Roll)
In many cases, guidance systems can be interchanged

Note: There are some dimensional differences in the top plate from the OT/NT/T counterparts.
If you need a large quantity of this product, call us at 1-800-338-1382 for additional bulk discounts!