OT and NT Series Turntables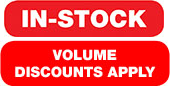 FOB: East Coast Warehouse

OT and NT Turntable Applications:
Semi-permanent and permanent type applications, with or without guidance.
Die Transfer Cart or as bearing for a thermal expansion joint.
Provides lateral/rotational motion when your solution requires it.
May be used in conjunction with the Hilman Rollers Accu-Roll when its tracks are not parallel.
Features:
Range of capacity: 5 to 75-tons.
Turntables bolt to the base roller unit and allow the roller to swivel.
Offers freedom of lateral motion in Hilman Rollers Accu-Roll applications.
Connection hardware is included.
Standard Designs are able to have one or more modifications added to them to create a unique product. For example, the OT turntables are pictured with optional bolt attachments.