Hilman Motorized Roller System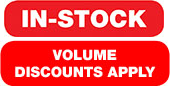 FOB: East Coast Warehouse

The Hilman Motorized Roller System makes moving the heavyweights much easier.
Fully powered version of the chain-action Hilman Roller.
The Roller System can be a permanent or semi-permanent solution for the repeated movement of heavy loads in a straight line.
Specifically designed to start and stop where and when required.
Designed for steel tracks.
System is a low-profile and high-capacity solution for repetitive movement of heavy objects.
Build a complete system with steel tracks, power unit, and Motorized Hilman Rollers.