FT Series Equipment Mover Kits and Sets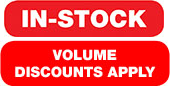 FOB: East Coast Warehouse
SALE

FT Series Kits are ideal for all sorts of heavy equipment moving, machinery, installation, and maintenance. All kits will include only 4 movers and at least two handles for simple storage and portability. The FT Series Kit makes it easy to move between job sites and move considerable weight.
4 professional quality swivel-locking rollers
Two full-length steering handles in a durable, heavy gauge steel storage case.
Capacities ranging from 15 tons to 60 tons.
Complete set capacities range from 16 tons to 200 tons.
Available with either swivel-locking padded rollers or swivel-locking diamond steel grid tops and loose preload pads.
Heavy gauge steel carrying case included.
Sets do not have the steel carrying case.
Kits have two-part, knock-down style handles
Sets have full length handles

Note: Kit & Set capacities are a combination of all four individual roller capacities in that particular size kit.