Bull Dolly Series Rollers - 1 to 6 Ton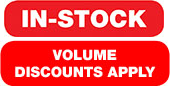 FOB: East Coast Warehouse

Bull Dolly Series Rollers Feature:
Any items such as large safes, chillers, condensers and machinery can be moved safely and efficiently.
Special nylon wheels are designed to resist marring your floors and can be combined with the turntable.
Lock enables the units to be used as swivel or rigid top dollies.
Diamond style top plate ensures a non-slip surface, though a neoprene pad should be utilized in addition.
Individual roller capacities range from 1 to 6 tons.
Order your individual bull dollies today!