Bull Dolly Kits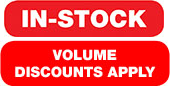 FOB: East Coast Warehouse & Oregon Warehouse
Model Numbers In Red: In Stock - Oregon Warehouse

All Bull Dolly Kits Include:
4 Dollies
2 Handles
1 Kit box
Diamond top models also include:
All Swivel Top models also include:
NOTE: The kit capacity listed is a combination of all 4 dollies.
Available in Nylon, Polyurethane and Steel wheels.
These dollies will not mar concrete or other floors.
If you need a large quantity of this product, call us at 1-800-338-1382 for additional bulk discounts!